A Guinness record-setting race
October 18, 2016 | Observer-Reporter article link | Article.pdf
A Guinness record-setting race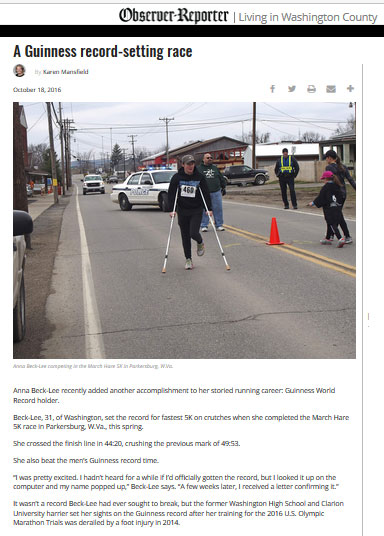 Anna Beck-Lee recently added another accomplishment to her storied running career: Guinness World Record holder.
Beck-Lee, 31, of Washington, set the record for fastest 5K on crutches when she completed the March Hare 5K race in Parkersburg, W.Va., this spring.
She crossed the finish line in 44:20, crushing the previous mark of 49:53.
She also beat the men's Guinness record time.
"I was pretty excited. I hadn't heard for a while if I'd officially gotten the record, but I looked it up on the computer and my name popped up," Beck-Lee says. "A few weeks later, I received a letter confirming it."
It wasn't a record Beck-Lee had ever sought to break, but the former Washington High School and Clarion University harrier set her sights on the Guinness record after her training for the 2016 U.S. Olympic Marathon Trials was derailed by a foot injury in 2014.
She underwent surgery that year to repair a navicular fracture in her foot, where screw was placed through the bone to hold it together. Nearly one year later, though, Beck-Lee suffered a fracture in the same bone and underwent a second surgery. Any hopes of competing in the 2016 trials were dashed.
"It was very discouraging, but I didn't want to just sit around," she says. "I wanted to do something positive."
Beck-Lee, a social worker at Allison Park Elementary School in Chartiers-Houston School District, has built a notable racing career. She qualified for the U.S. Olympic Marathon Trials in 2012, and finished with a time of 2:47:26. She placed 10th at the Pittsburgh Marathon in 2009, and finished 28th at the Boston Marathon in 2011.
With support from her family, and an OK from her doctor, Beck-Lee started training for the record two weeks after surgery by "crutching" at Washington School District's track or Washington Crown Center after work, depending on the weather. She also woke up at 4:30 a.m. to run in the swimming pool at her gym and ride the stationary bike before heading to work.
Beck-Lee first attempted to break the record when she competed in the Cupid's Chase 5K in Pittsburgh on Jan. 13, the same day as the Olympic trials, and – hampered by a snow-covered course – crossed the finish line in 53:45.
She settled on the March Hare for a second attempt.
Her husband, Ken, trailed behind her during her record-breaking run, videotaping the race to send to Guinness. She says the toughest part of the race was gripping the handles on the crutches.
"My hands hurt from gripping the handles," she says.
Beck-Lee submitted her application and documents for verification to Guinness, and in July she received confirmation that she had set the record.
Beck-Lee has resumed running, and plans to train for the 2020 Olympic trials.
She also confided that she was 10 weeks pregnant when completed her record-setting race. Her daughter, Sophia, was born on Sept. 27.
Beck-Lee also completed a 5K race on Labor Day, when she was 37 weeks pregnant. "I wonder," she muses, "if there's a Guinness record for that."