An Excerpt from the Annual Report 2018
2018 Annual Report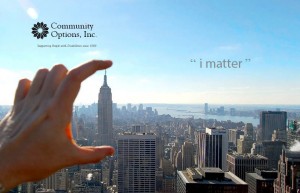 Dear Colleagues of Community Options:
Our mission is to develop housing and employment opportunities for people with disabilities. In its history, the agency has developed a reputation for quality, cost effective administration that encourages individual choice and flexibility. Our over 3,600 staff support thousands of families and continue to champion the rights of persons with disabilities to live and work in their communities. We are the fifth largest non-profit organization in New Jersey with an operating budget of 112,659,953 million dollars.
We have developed an array of income producing projects, from entrepreneurial businesses, such as shared office facilities, flower shops and gift shops that employ people with and without disabilities, to supported employment with one to one job coaching to individual micro-enterprises.
We are successfully working in tandem with governments who are interested in privatizing services for their most vulnerable citizens. We train future entrepreneurs at the local level to advance the humanitarian efforts of their government to increase the quality of life.
Community Options has a history of partnering with the National Council of Negro Women to advance the rights of mothers of children with disabilities. Community Options has also augmented local non-governmental organizations in Egypt for the educational advancement of children in need.
As a sophisticated Private Voluntary Organization with significant depth, we have worked with women who have disabilities or are the mothers of children with disabilities to contribute to the advancement of micro-business as well as educational and vocational programs tailored to meet their needs. We profess and build capacities in people to fully comprehend that they can control the outcomes of their lives and make autonomous decisions based on their financial stability.
We are a unique Private Voluntary Organization managed by business leaders with a humanitarian agenda and understand the fundamental elements associated with economic independence and sustainable resilience in the community. We know that before any marginalized population can develop a business plan, or enter a complex vocational program, they need to have elementary skills in reading and literacy.
Our strategic plan focuses on leading public-private partnership projects for skill development in collaboration with government and entrepreneurs for micro enterprises. We understand the challenges that lie ahead in the upcoming second half of the decade. We are proud of the work we do and the partnerships we have developed as a U.S. Private Voluntary Organization with local Non-Governmental Organizations in Egypt, Peru, Vietnam and Russia. We look forward to increasing our presence in those areas and are committed to equal rights for all regardless of race, religion, gender or disability.
We remain confident that Community Options will continue to make a difference in the lives of people with disabilities. The board, volunteers and staff at Community Options remain optimistic about planned and future partnerships with governments, NGOs and people that will benefit from our work.
Sincerely,
Robert Stack
President and CEO
To view PDF files, you need to have Adobe Acrobat Reader 8 or higher installed. To obtain a free copy, please click here.