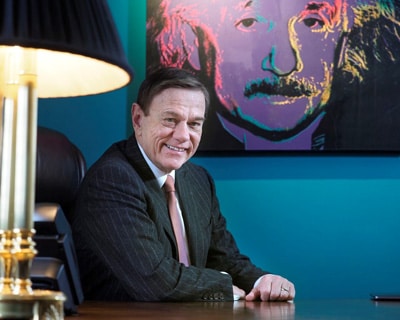 Robert Stack
Robert Stack, Pioneering Advocate for People with Disabilities
Robert Stack has been a national leader in the continuing struggle to improve the lives of people with intellectual and developmental disabilities. One of the first in the nation to implement a national nonprofit implementing an alternative to the warehousing of the disabled in large institutions.
Stack was one of the first to pioneer the concept of community-based housing programs and work force training and development.  He actively challenged public policy and antiquated clinical practices that inhibited opportunities for self-efficacy and individual growth.
As a young civil servant in 1980 at the then entitled New York State Office of Mental Retardation and Developmental Disabilities, he opened the first two state-operated group homes on the grounds of Long Island's Suffolk Developmental Center.  As Deputy Director at the New Jersey Division of Developmental Disabilities in 1988, he led the efforts to migrate individuals out of high-density institutions.
His vision realized changes years before the Americans with Disabilities Act (ADA) and a decade before the Olmstead decision by the Supreme Court directed states toward this policy change. Stack's dedication toward the disabled community led to the first closure of a large developmental institution in New Jersey.
Following a decade of efforts to make a change as an insider within the human services divisions in two different states, Stack realized that there needed to be a more proactive approach outside of government to effect a reform.  In 1989, he founded Community Options, a non-profit organization built on the belief that all people with disabilities deserve to live a life of dignity and realize all opportunities available according to the abilities of each individual. This includes the realization of employment opportunities, which play a critical role in self-efficacy, personal growth and quality of life.
Today the organization serves over 5,000 people with intellectual and developmental disabilities – operating in 12 states, through more than 50 locally based offices. As president and CEO of the organization, Stack has continued to advocate for the rights of people with disabilities at the national and international level. He has testified before Congress and in state houses, has spoken throughout the world on employment for persons with disabilities using a social entrepreneurial model, and regularly gives his perspective on a variety of topics impacting people with disabilities.
Stack has long argued that states must do a better job of keeping people with intellectual and developmental disabilities out of high-density institutions. Through advocacy, media and direct engagement of government entities he repeatedly has called on states to comply with the Supreme Court's Olmstead decision of 1999 that upheld the move toward community-based programs as a fundamental right under ADA.
During the coronavirus pandemic, Stack called attention to the fact that people with disabilities living in large institutions were three times more likely to die of COVID-19 compared to the general public. He actively challenged the relevant authorities in each state to enact an immediate change, and directly engaged with the Centers for Medicare & Medicaid Services, the U.S. Senate Committee on Health, Education, Labor and Pensions, and the Biden Administration to move that agenda forward. Stack was recently appointed as a trustee of the Pennsylvania Advocacy and Resources for Autism and Intellectual Disability.
Stack is also the author of "I Matter- So Does Your Cause- Starting a Nonprofit" about his experiences starting a nonprofit. The book is available on amazon.com, barnesandnoble.com, or mybookorders.com. All proceeds go to Community Options to support people with intellectual and developmental disabilities.
Stack is available for the following:
Television and Radio Segments (live or taped)
Public Service Announcements
Print and Online Interviews
Guest Lectures
Conference Keynotes
Summit Organization
Leadership Transition
If you would like to interview or book Robert Stack for an event, email: Kathryn.Sampson@comop.org