Community Options Rings in 20 years at the New York Stock Exchange
In celebration of our 20th anniversary, Community Options, Inc. rang the Opening Bell at the New York Stock Exchange on Wednesday, January 14, 2009.
Community Options Celebrating 20 Years of Dedicated Service to Individuals with Disabilities – May 13-15, 2009
In celebration of our 20th Year Anniversary, Community Options, Inc. will be hosting two major events in Princeton, New Jersey. First, Community Options will host its 4th Annual Conference at the Nassau Inn beginning on Wednesday, May 13, 2009, lasting through Friday, May 15, 2009. The conference will be followed by the 20th Anniversary Gala that will be held on the evening of Friday, May 15, 2009, at the Governor's Mansion in Princeton, New Jersey.
Our 4th Annual Conference will focus on providing quality support services to people with developmental disabilities and traumatic brain injuries. Topics will include employment, entrepreneurial business development, accessible housing, unique program development as well as employee hiring and retention.
Community Options, Inc. is honored to facilitate this nation-wide symposium to promote educational and workforce development opportunities for people with developmental disabilities, their families, advocates, educators and professionals.
This year's conference will kick off the week's events leading up to the 20th Anniversary Gala to celebrate two decades of unparalleled service to people with developmental disabilities.
The Gala will be held at historic Drumthwacket, the New Jersey Governor's Mansion in Princeton, New Jersey, on the evening of May 15, 2009. Dignitaries and guests from across the nation will gather for an evening of elegant dining, entertainment and noted speakers who will highlight Community Options' successes. More importantly, this evening will help continue to fund the invaluable programs and services that assist those with developmental disabilities to acquire new skills and fulfill their life's potential.
Community Options' mission for the past 20 years has been to develop housing and employment support for people with developmental disabilities. The enduring spirit of Community Options' mission will continue to inspire change throughout decades and generations to come and we thank you for your support and unyielding efforts in aiding Community Options to realize this milestone.
Fourth Annual Conference – May 13th-15th, 2009
Celebrating 20 years of dedicated service to individuals with disabilities will be held at Princeton's Nassau Inn
20th Anniversary Gala – May 15th, 2009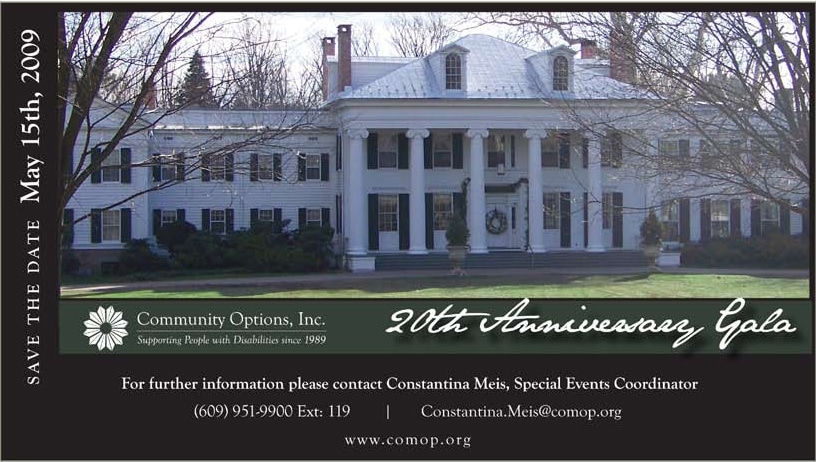 Drumthwacket – The New Jersey Governor's Mansion
Volusion Grants Presents of Mind the Gold Level Package to streamline Online Shopping and Web Presence
Presents of Mind, Community Options Enterprises latest business venture is launching a new online marketing campaign with a generous donation from Volusion.
Founded in 1999, Volusion has received numerous awards for its E-Commerce Software and web hosting. From 2005-08, Volusion has seen over 1900% growth. Clients include The Obama Campaign "08, Disney and The Chicago Tribune. Volusion's award winning software includes all the features needed to attract and effectively draw customers. Utilizing Volusion will allow Presents of Mind to build an attractive and east to use storefront as well as manage a customer database, emails, inventory, and all financial data.
Presents of Mind is a luxuriously appointed store filled with trendy, classic, and humorous gifts, gourmet foods, local art, and exotic teas. Our retail associates, looking to gain valuable career experience in retail and store management, have the opportunity to learn point of sale software, soft-selling and customer relations skills, retrieving and processing of orders received through our website, inventory management, store layout and design, and different forms of presentation and display. Our store focuses on meeting the demands that our customers deserve. Presents of Mind is located in Mount Olive, NJ.
To shop online, please visit us at www.presentsofmind.org.
Growth in Nashville
Community Options, Inc., of Nashville has reached its largest number of persons supported during November 2008. The office now serves 30 individuals residentally. This is the largest number of persons supported residentially among the operations in Tennessee.
Community Options is the nation's fastest growing nonprofit organization supporting people with developmental disabilities and while this growth is substantial, the quality of our supports is never compromised. Community Options provides the highest Level of quality support and innovation in all Program design.
In 2009, Community Options, Inc., of Nashville will celebrate its 10th year in operation!
Cupid's Chase 5k
Run with your heart this Valentine's Day at Princeton University. Proudly sponsored By Community Options, Inc., this 5k Run/Walk will take place at the Jadwin Gymnasium at Princeton University on a certified Course starting at 9am on Saturday, February 14, 2009. To register online visit comop.org/cupidschase
George A. Bryant's Incredible Road to Recovery
George A. Bryant's entrepreneurial business and personal life hasn't been the same since his almost fatal motorcycle accident in May of 2006. The emergency roo9m doctors gave Mr. Bryant slim chance of survival due to his severe brain injury compounded by a lack of blood and oxygen flow to the brain. Nevertheless, thanks to Mr. Bryant's relentless spirit, he was transferred to the Brain Injury Program at Sunnyview Rehabilitation Hospital in Schenectady, NY, only after three and a half weeks. He remained at Sunnyview for four months, learning how to walk, eat and talk again.
In October of 2006, Mr. Bryant was released from the rehabilitation hospital to return to his home in Binghamton, ANY. Thanks to the support of his family, friends, medical care and COI's services (all provided to Mr. Bryant at his home) he can more onward. During Mr. Bryant's phenomenal recovers, which is still in progress and against all odds, Mr. Bryant has re-ignited his zest and love for life. He thrives on moving ahead every day.
George E. Bryant, Mr. Bryant's father, hopes that "George's courage will light… pathways with warmth and hope, but most of all with encouragement to believe in (oneself) and to fight as hard as (one) can every hour of every day to regain the life one had before the injuries. George will be the first to tell that, not only can it be done but that it is indeed, within one's grasp."