iMatter Surf Camp 2010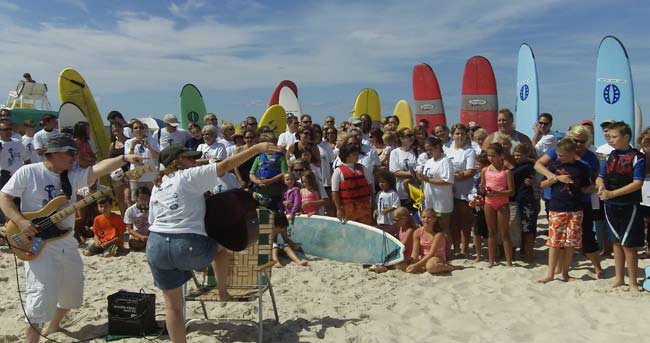 On Saturday August 14, 2010, Community Options held its 4th Annual iMatter Surf Camp for Children with Autism at Cupsogue Beach in Westhampton, New York. This year's event was dedicated to Kristen Bednar, lead female volunteer of the camp who passed away in January 2010. "Everything we did on Saturday and continue to do for the camp will always be in Kristen's honor and memory," says Jessica Guberman, Executive Director of Community Options Enterprises and founder of the iMatter Surf Camp.
The success of the camp is evident in the growth it has experienced since its inception in 2007, at which point there were 22 people in attendance. This year's camp was the most successful to date with a record breaking turnout of more than 400 children, families, and friends, and sponsorship from 13 businesses nationwide. "We are so proud of the iMatter Surf Camp and what it has become," says, Robert Stack, President and CEO of Community Options. Stack indicates that the camp has taken on a life of its own and that people are incredibly pleased with the opportunity for their children participate.

| | |
| --- | --- |
| The best example of my experience: At the end of the day, a beautiful non verbal 10th grader walked up to her mom and dad, gave dad an amazing hug, and said "HAPPY". Krissi and Mike always told me about the rewards, Now I get it. till next year- Peter Blum | My first time volunteering, it was an amazing experience..One girl I took out surfing was so funny… I think her name was Patricia…every time I saw a wave coming in and asked if she was ready, she would look at me, smile and yell "No! Wait for a bigger one!!!"- Bob Ocon |
5th Annual iMatter National Conference – Connect. Share. Live.
Community Options will hold its 5th Annual iMatter Advocacy Conference at The W Hotel in Dallas, Texas from Monday, September 27 to Thursday, September 30, 2010. This year's conference will be the culmination of a year of work by parent advocacy groups that Community Options has assembled across the United States through a grant awarded by the Administration on Developmental Disabilities in October of 2009.
The conference will feature keynote speakers Judy Woodruff, Broadcast Journalist; Chai Feldblum, Commissioner of the Equal Employment Opportunity Commission; Laura Shumaker, author and columnist; Sean Stephenson, motivational speaker and Jeff Brady, a reporter that teaches and mentors other fellow journalists. The event will also include a keynote panel moderated by David Norcross, Partner, Blank Rome LLC, and comprised of Albert Stark, Shareholder and member of the Accident & Personal Injury Group, and Samuel Bagenstos, Principal Deputy Assistant Attorney General, U.S. Department of Justice Civil Rights Division.
For more information, please visit the conference website at: comop.org/events/national-conference/
Keynote Speakers
Lights, Camera, Action!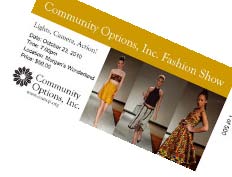 On October 23, 2010, Community Options of San Antonio will host a fashion show in celebration of Disability Awareness Week at Morgan's Wonderland. Along with the fashion show, attendees will enjoy dinner and have the opportunity to participate in a silent auction with prizes ranging from a free one-night hotel stay to coupons for free car washes. Proceeds from the event will be used to open a new group home, resulting in community placements for four individuals with disabilities.
Community Options expects that the event will be a huge success, estimating an attendance of about 300 people and confirming the following sponsors: Americus Diamonds, Macys, Victory Sports USA, The Bridal Connection, and International Academy of Design & Technology.
Community Options, Inc.
2632 Broadway, Suite 101 North, San Antonio, TX 78215
Phone: (210) 212-4969 Fax: (210) 212-4966
Save The Date
Saturday, February 12, 2011 CUPID'S CHASE 5K. comop.org/cupidschase
Connecticut, Kentucky, New Mexico, New Jersey, New York, Pennsylvania, South Carolina, Tennessee, Texas.
Syracuse Staff Appreciation Picnic
On Friday August 20, 2010, the Syracuse, New York office held their Annual Staff Appreciation Picnic at the home of Cynthia Barnaby, Executive Director of Syracuse. The event was a success, with adults, children, and pets in attendance, Dinosaur Barbeque cuisine, and beautiful weather for swimming and relaxing. Long-time employees, Jeffrey Dean Hill (1995), Claire Pandozzi (2005), and Linda Fennel, as well as new additions to the team, Christine Walberger and Shirley Ambriati, came together to enjoy the picnic. Todd Hansen was able to attend, making the trip from the Binghamton office, and Assistant Director Kristine Firenze was also in attendance, accompanied by her children.
As Featured in the Wall Street Journal………….
On July 15, 2010, Sarah Needleman of the Wall Street Journal did a feature article about people with disabilities owning and running their own businesses. David, a man we support in New Mexico, was the centerpiece of this article. With the help of his team, David started his own business, David's Peanut Butter Puppy Bites. David received a phenomenal response to this article and is filling orders at a fast rate as a result of this exposure!
View some more press about David
Order your flowers from Vaseful Flowers & Gifts
100% of the proceeds support people in employment