Community blossoms at Princeton's Vaseful Flowers and Gifts
July 1, 2019 | Community News Service
In a building where Town Topics newspaper was once produced, Aakash
Kanjani does a little bit of everything at his job in a flower shop at
305 Witherspoon St.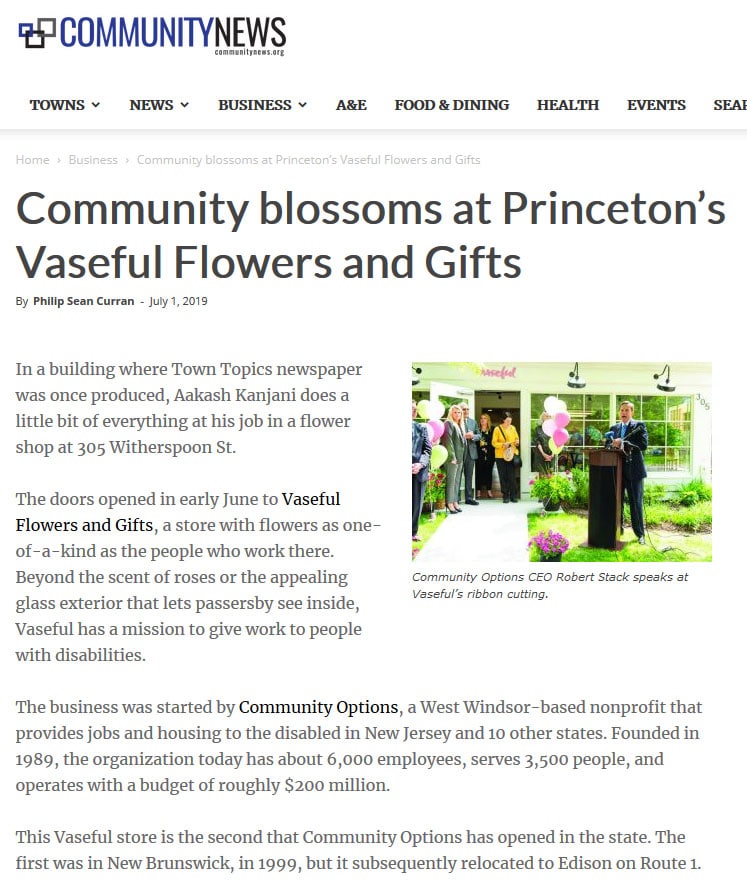 The doors opened in early June to Vaseful Flowers and Gifts, a store with flowers as one-of-a-kind as the people who work there. Beyond the scent of roses or the appealing glass exterior that lets passersby see inside, Vaseful has a mission to give work to people with disabilities.
The business was started by Community Options, a West Windsor-based nonprofit that provides jobs and housing to the disabled in New Jersey and 10 other states. Founded in 1989, the organization today has about 6,000 employees, serves 3,500 people, and operates with a budget of roughly $200 million.
This Vaseful store is the second that Community Options has opened in
the state. The first was in New Brunswick, in 1999, but it subsequently
relocated to Edison on Route 1.
Like with any business, Vaseful seeks to provide employees with the right jobs matching their abilities.
"When you look at the actual job itself of flowers, there's a
multitude of tasks that can be broken down that can fit the individual's
needs," said Robert Stack, president and CEO of Community Options and a
Princeton resident. "So let's just say you have a person that happens
to be high on the autistic scale and he can't speak, maybe he can wash
the refrigeration units down. Maybe he wants to count the vases and do
inventory."
The aim is eventually to hire 12 employees with disabilities at the
store, all under the watchful eye of a program manager, Nicole Young,
and a professional florist, Kathleen Angelinovich.
Kanjani works at the shop five days a week, from Monday to Friday, as
a floral trainee. He called working there "pretty good" and said his
duties include feeding the flowers, putting them in vases, and sweeping
the floors. Jose Saez, another employee, felt it was exciting to be a
part of a new business.
Employees work part-time, 20 hours a week, and get paid at the state
minimum wage. Their tasks run the gamut, like working the cash register,
keeping the store clean, and making deliveries — all intended to build
job skills that they can take to their next employer.
"This is a stepping stone for them, so we're looking for them to gain
competitive employment outside of here," Young said. "So this is their
training ground. This is where it all gets started. This is where they
get the taste of what employment is."
They work with the flowers too, said Angelinovich, who has spent 30
years in the flower business. Before this job, she was a floral manager
for a ShopRite in Neptune.
"They're learning about processing the flowers, cutting them,
hydrating them, the different names, different varieties," she said. "I
think for me walking into this, it was a flower shop, but it was so much
more. It was just so much more of an opportunity for me to get to do
this and get a sense of purpose."
Community Options purchased the current Vaseful site five years ago
and first used it as temporary offices. Stack said his vision was always
to make it a flower store, a step that required getting a variance from
the town and renovating the building.
At a ribbon-cutting ceremony for the store's grand opening on June 5,
state Senate President Stephen M. Sweeney said he was proud of his
adult daughter, Lauren, who has Down syndrome and loves her job at a
daycare center. In 2018 the unemployment rate nationally for the
disabled was 8 percent, compared to 3.7 percent for those without a
disability, the federal government reported earlier this year.
"Giving people with disabilities an opportunity to gain employment
matters a great deal because people with disabilities have the ability
to work," he said. "Really looking beyond the disability and looking
(at) what the person is able to do is critically important to get people
with disabilities into the working world."
The store gets its flowers from local wholesalers and is home to 20
varieties. A large walk-in refrigerator keeps the flowers cool.
Customers can make orders for special or important occasions or buy
something already prepared to grab and go.
"We have to break even after we pay the staff and after we pay for everything," Stack said.
Vaseful is not the only business in town with this kind of mission. Blue Bears Special Meals, a restaurant that opened this year in the Princeton Shopping Center, employs adults with intellectual and developmental disabilities.
For Stack, working with the special needs community started when he
was a teenager. Growing up in Pittsburgh, where his father was a
milkman, he thought he wanted to be a priest, and at an age when most
children are still in middle school, he began attending a seminary in
Butler, Pennsylvania, when he was 12. On his time off when he was not
taking class, he volunteered working at a home for disabled children.
He decided being a priest was not for him and enrolled in public high
school. He earned a degree in philosophy at the University of Dayton
and spent some time teaching, but ultimately returned to his original
calling.
Eventually he worked as the executive director at United Cerebral
Palsy of New Jersey and later for the state in the Department of Human
Services. At the time, New Jersey was second in the nation for number of
people with developmental disabilities living in institutions, and
Stack's job was to try to get them out of those facilities.
"New Jersey was horrifically behind in its de-institutionalization
movement," he said. "And what I realized very early on was that there
weren't any agencies that wanted to deal with people who had significant
disabilities."
In 1989, when he was 32, he formed Community Options out of
"nothing," in his words, out of his row home in Bordentown. He wrote the
bylaws and the articles of incorporation and came up with the name of
the organization.
"We opened up the first three houses in New Jersey, and that was the
toughest time because we had to wait for money," he said. "And so I had
to mortgage my house and just take everything I had in order to sink
this in there. We had no money at all."
The mission of the organization has not changed since then: to provide housing and employment for people with disabilities.
"People with disabilities have the same problem as celebrities —
they're surrounded by people who are paid to be around them," Stack
said. "And so what we try to do is create relationships where people
with disabilities can meet the general public and forge relationships,
either with other people with disabilities or anyone in the community."
Vaseful, 305 Witherspoon Street. Monday through Friday, 10 a.m. to 6
p.m.; Saturday 10 a.m. to 2 p.m. Closed Sundays. Phone: 609-751-9800.