Community Options highlighted as February Community Partner
February 01, 2023 | abcnews4.com online article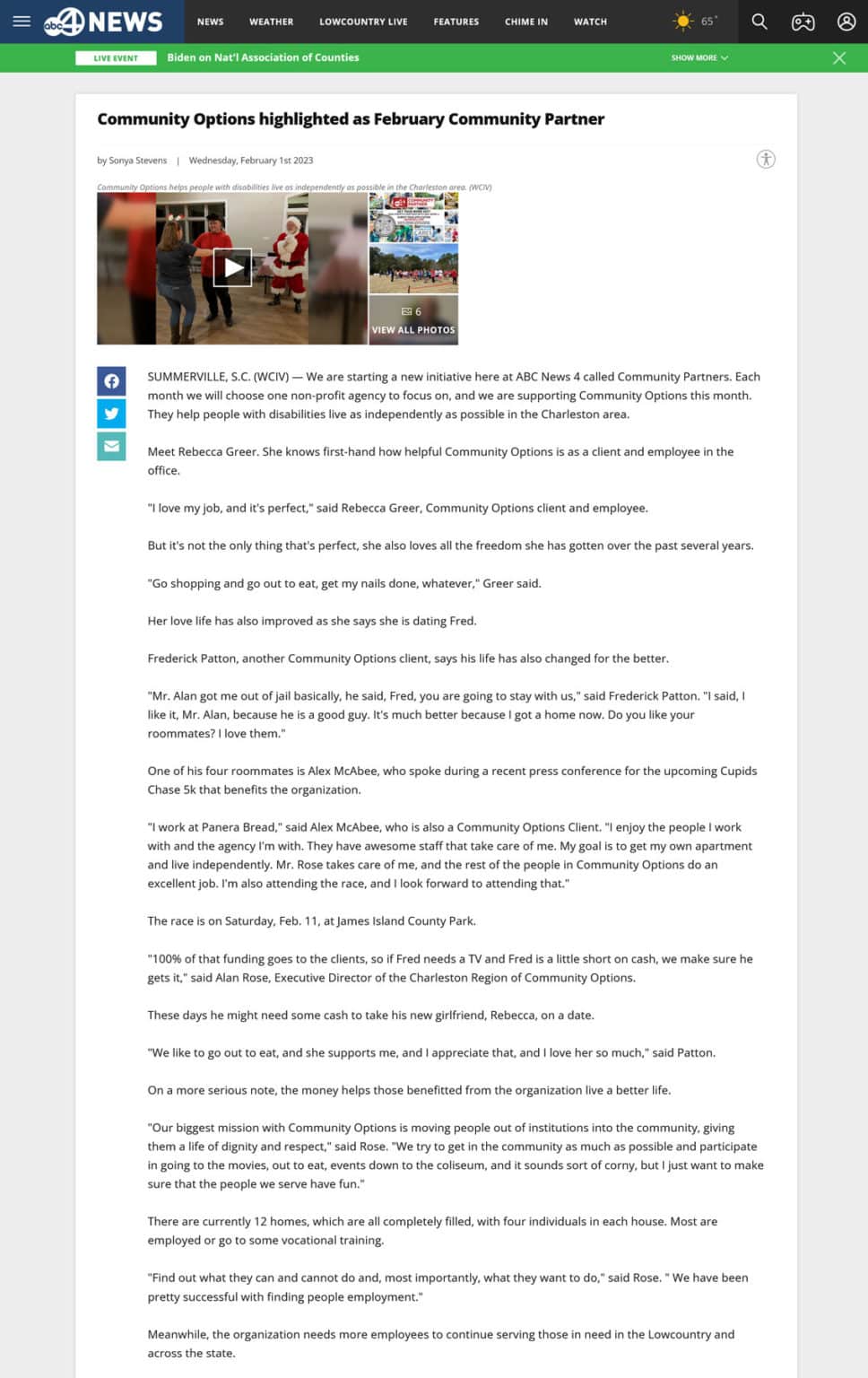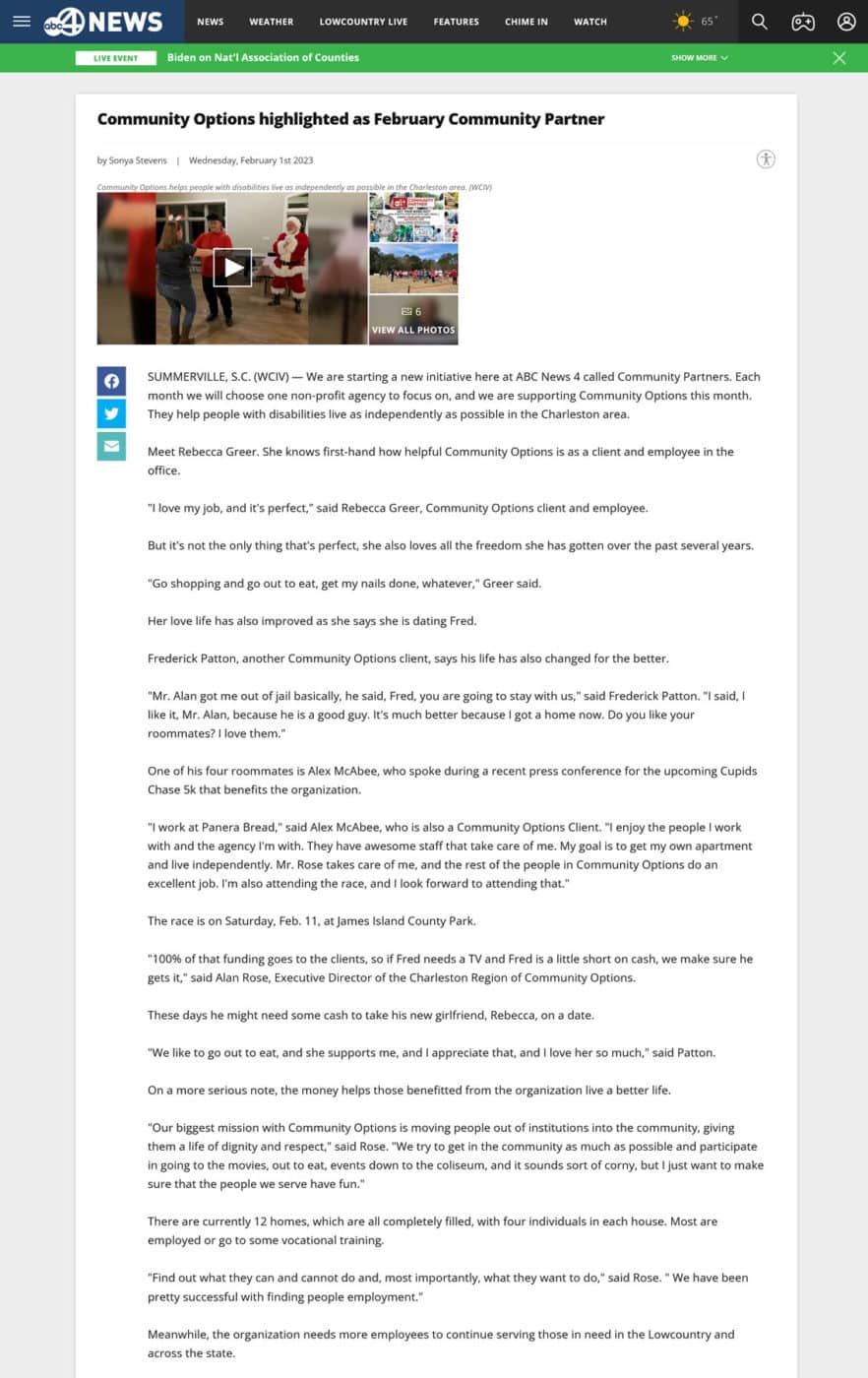 SUMMERVILLE, S.C. (WCIV) — We are starting a new initiative here at ABC News 4 called Community Partners. Each month we will choose one non-profit agency to focus on, and we are supporting Community Options this month. They help people with disabilities live as independently as possible in the Charleston area.
Meet Rebecca Greer. She knows first-hand how helpful Community Options is as a client and employee in the office.
"I love my job, and it's perfect," said Rebecca Greer, Community Options client and employee.
But it's not the only thing that's perfect, she also loves all the freedom she has gotten over the past several years.
"Go shopping and go out to eat, get my nails done, whatever," Greer said.
Her love life has also improved as she says she is dating Fred.
Frederick Patton, another Community Options client, says his life has also changed for the better.
"Mr. Alan got me out of jail basically, he said, Fred, you are going to stay with us," said Frederick Patton. "I said, I like it, Mr. Alan, because he is a good guy. It's much better because I got a home now. Do you like your roommates? I love them."
One of his four roommates is Alex McAbee, who spoke during a recent press conference for the upcoming Cupids Chase 5k that benefits the organization.
"I work at Panera Bread," said Alex McAbee, who is also a Community Options Client. "I enjoy the people I work with and the agency I'm with. They have awesome staff that take care of me. My goal is to get my own apartment and live independently. Mr. Rose takes care of me, and the rest of the people in Community Options do an excellent job. I'm also attending the race, and I look forward to attending that."
The race is on Saturday, Feb. 11, at James Island County Park.
"100% of that funding goes to the clients, so if Fred needs a TV and Fred is a little short on cash, we make sure he gets it," said Alan Rose, Executive Director of the Charleston Region of Community Options.
These days he might need some cash to take his new girlfriend, Rebecca, on a date.
"We like to go out to eat, and she supports me, and I appreciate that, and I love her so much," said Patton.
On a more serious note, the money helps those benefitted from the organization live a better life.
"Our biggest mission with Community Options is moving people out of institutions into the community, giving them a life of dignity and respect," said Rose. "We try to get in the community as much as possible and participate in going to the movies, out to eat, events down to the coliseum, and it sounds sort of corny, but I just want to make sure that the people we serve have fun."
There are currently 12 homes, which are all completely filled, with four individuals in each house. Most are employed or go to some vocational training.
"Find out what they can and cannot do and, most importantly, what they want to do," said Rose. " We have been pretty successful with finding people employment."
Meanwhile, the organization needs more employees to continue serving those in need in the Lowcountry and across the state.