Community Options Honors Individuals
May 15, 2019 | towntopics.com online article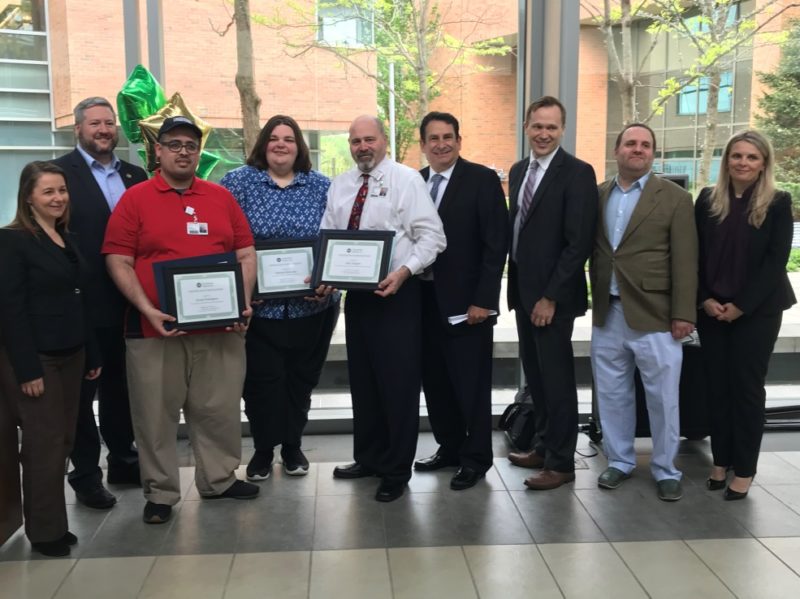 Community Options, Inc. presented three awards to individuals for outstanding achievements and for promoting diversity and inclusion in the workplace. Jovani Rodriguez, Allen Reigert, and Patricia Pavlovsky received awards during a ceremony at Robert Wood Johnson University Hospital Hamilton.
Rodriguez had been a volunteer at the RWJ Hospital in Hamilton for three years through the Community Options STEP21 program. His consistent work ethic and dedication as a volunteer was recognized by Reigert, director of food services for Aramark at RWJ Hamilton.
He recruited Rodriguez to come work for him once he completed STEP21. Working alongside job coach Pavlovsky, Reigert went the extra mile to hold the position for Rodriguez. Both he and Pavlovsky worked to ensure that everything was set up for him to begin working as soon as possible. Today, Rodriguez is a senior food service worker and continues to make great strides towards his independence.
"Jovani's achievement is a testament to his hard work and perseverance, as well as the collaborating efforts of Allen and Patricia," said Svetlana Repic-Qira, regional vice president of Community Options. "People with disabilities face significant hurdles when seeking employment. Success stories like Jovani's are possible thanks to employers that are able to recognize his unique talent and potential."
STEP21 was designed by Community Options to provide individuals with disabilities with real world, hands-on training while exploring a number of different career paths. STEP21 is a progression of Community Options' School to Employment Program (STEP), a job training and transition program for high school students and young adults with special needs. STEP provides students with transferable vocational education and relevant social skill development as part of their Individualized Education Program (IEP).
Community Options has partnered with RWJ Hamilton for 10 years to provide vocational training and employment opportunities for people with disabilities. The partnership has resulted in employment for individuals such as Rodriguez, who may have been overlooked as a job applicant elsewhere.
"We are proud of our 10 years of partnership with Community Options," said Richard Freeman, president and CEO of RWJ Hamilton. "Together, we are promoting the culture of diversity and inclusion that is inherent in the mission and values of Robert Wood Johnson University Hospital Hamilton."
The three also received recognition from Assemblyman Dan Benson, Council President Jeff Martin, and Scott Crass, representing Senator Linda Greenstein. All three were presented with Joint Legislative Resolutions from the New Jersey State Legislature and Proclamations from the Hamilton Township Council.