Community Options Picks the Perfect Spot for Grant Ceremony
August 2, 2021 | tapinto.net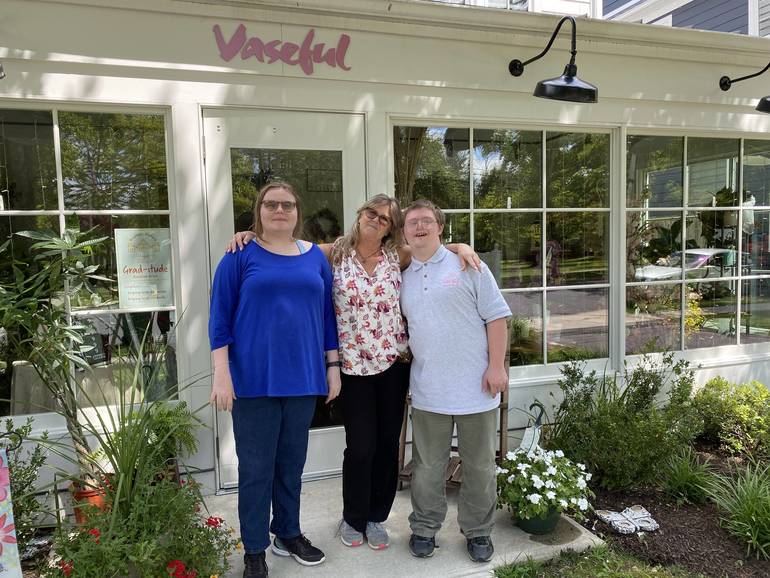 Community Options, the Farber Road-based non-profit that has developed housing and employment supports for people with disabilities for more than 30 years, will receive a $10,000 grant from the OceanFirst Foundation in a ceremonial presentation Tuesday, August 3, at 2:30 p.m. at Vaseful Flowers and Gifts at 305 Witherspoon Street.
Why Vaseful? Because Vaseful is one of many small businesses that have found that it not only pays to employ Community Options clients, but it also helps empower people with disabilities – regardless of ability level – to live and work in the community with dignity, choice, and self-determination.
Vaseful, which has a store in Edison as well as Princeton, is one of eight entrepreneurial businesses operated by Community Options that provide employment to people with disabilities in an integrated setting.
At the presentation Katherine Durante, executive director of the OceanFirst Foundation, will present the grant to Robert Stack, president and CEO of Community Options Inc, and Phil Lian, chairman of the board of Community Options.
"OceanFirst Foundation is pleased to provide a general operating support grant to Community Options to ensure the continuation of vital programming for people with disabilities," said Durante of OceanFirst Foundation. "We know that providing our partners with flexible funding is what's needed most as they recover from the pandemic."
Community Options is a national nonprofit that provides housing and employment to 5,000 people with disabilities. Residential and employment programs are person-centered and customized to help people achieve their goals. Community Options staff work closely with individuals to increase their social skills and boost their self-confidence. Community Options is the third largest nonprofit in New Jersey. Statewide, Community Options supports over 1,200 people in housing and employment programs.
"We are very thankful for this grant," said Stack of Community Options. "We look forward to continuing to our partnership with Ocean First." This grant award continues Community Options' partnership with the OceanFirst Foundation. In the Spring of 2020, Community Options received a $5,000 grant to be used for COVID-19 relief efforts.