Cupid's Chase 5K debuts in Lake Como on Saturday
February 09, 2023 | starnewsgroup.com online article
National race benefits nonprofit serving people with disabilities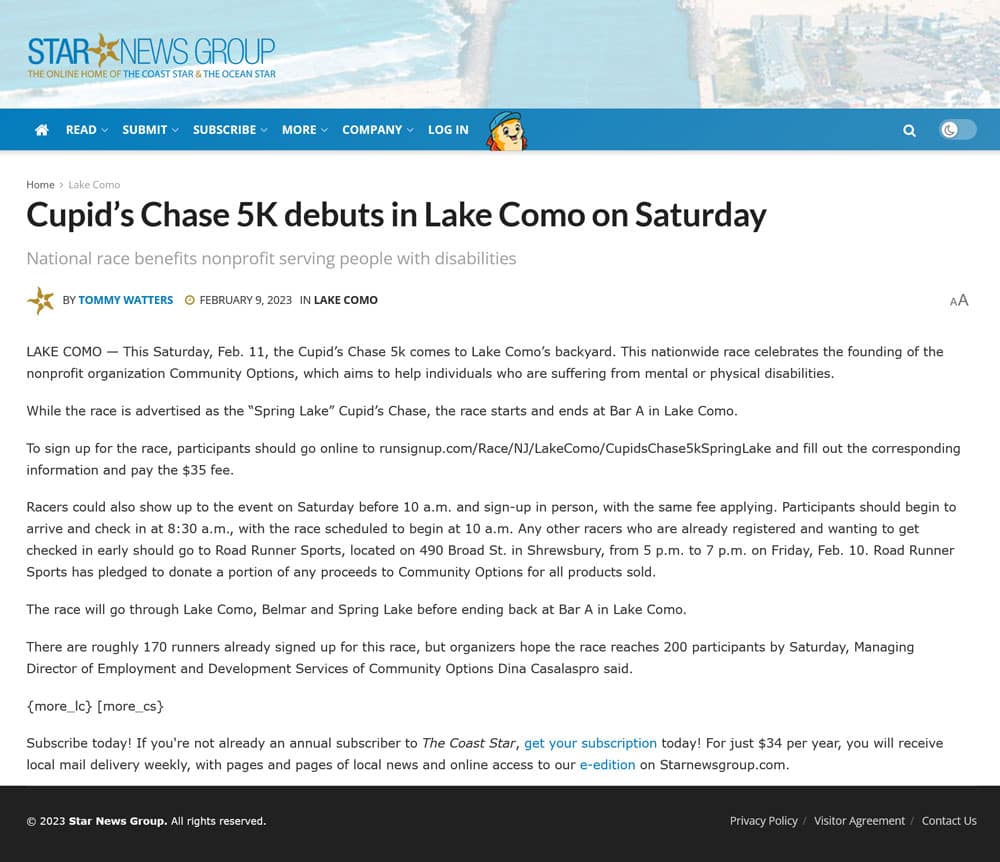 LAKE COMO — This Saturday, Feb. 11, the Cupid's Chase 5k comes to Lake Como's backyard. This nationwide race celebrates the founding of the nonprofit organization Community Options, which aims to help individuals who are suffering from mental or physical disabilities.
While the race is advertised as the "Spring Lake" Cupid's Chase, the race starts and ends at Bar A in Lake Como.
To sign up for the race, participants should go online to runsignup.com/Race/NJ/LakeComo/CupidsChase5kSpringLake and fill out the corresponding information and pay the $35 fee.
Racers could also show up to the event on Saturday before 10 a.m. and sign-up in person, with the same fee applying. Participants should begin to arrive and check in at 8:30 a.m., with the race scheduled to begin at 10 a.m. Any other racers who are already registered and wanting to get checked in early should go to Road Runner Sports, located on 490 Broad St. in Shrewsbury, from 5 p.m. to 7 p.m. on Friday, Feb. 10. Road Runner Sports has pledged to donate a portion of any proceeds to Community Options for all products sold.
The race will go through Lake Como, Belmar and Spring Lake before ending back at Bar A in Lake Como.
There are roughly 170 runners already signed up for this race, but organizers hope the race reaches 200 participants by Saturday, Managing Director of Employment and Development Services of Community Options Dina Casalaspro said.