February 6, 2018 | KRQE Article
Community Options Annual Cupid's Chase 5K
Run for Love and a Good Cause
Cindy Barnaby joins Bridge Street to chat about the upcoming Cupid's Chase 5K.
[caption" align="alignright" width="163"]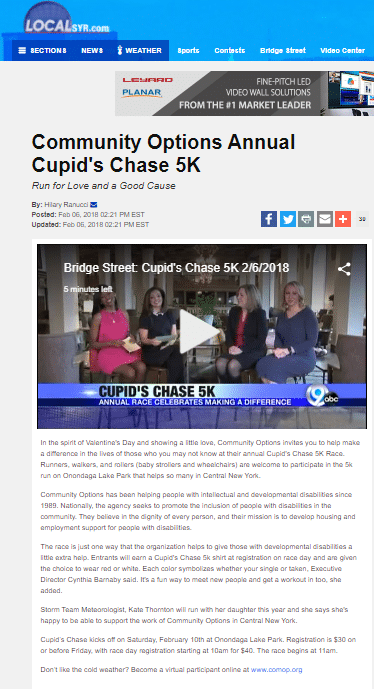 Cindy Barnaby joins Bridge Street to chat about the upcoming Cupid's Chase 5K.[/caption]
In the spirit of Valentine's Day and showing a little love, Community Options invites you to help make a difference in the lives of those who you may not know at their annual Cupid's Chase 5K Race. Runners, walkers, and rollers (baby strollers and wheelchairs) are welcome to participate in the 5k run on Onondaga Lake Park that helps so many in Central New York.
Community Options has been helping people with intellectual and developmental disabilities since 1989. Nationally, the agency seeks to promote the inclusion of people with disabilities in the community. They believe in the dignity of every person, and their mission is to develop housing and employment support for people with disabilities.
The race is just one way that the organization helps to give those with developmental disabilities a little extra help. Entrants will earn a Cupid's Chase 5k shirt at registration on race day and are given the choice to wear red or white. Each color symbolizes whether your single or taken, Executive Director Cynthia Barnaby said. It's a fun way to meet new people and get a workout in too, she added.
Storm Team Meteorologist, Kate Thornton will run with her daughter this year and she says she's happy to be able to support the work of Community Options in Central New York.
Cupid's Chase kicks off on Saturday, February 10th at Onondaga Lake Park. Registration is $30 on or before Friday, with race day registration starting at 10am for $40. The race begins at 11am.
Don't like the cold weather? Become a virtual participant online at www.comop.org