Cupids Chase Run Saturday Helps Community Options
February 08, 2018 | West Kentucky Star online
PADUCAH,KY – Runners, on your mark for Cupid's Chase, coming Saturday to Paducah.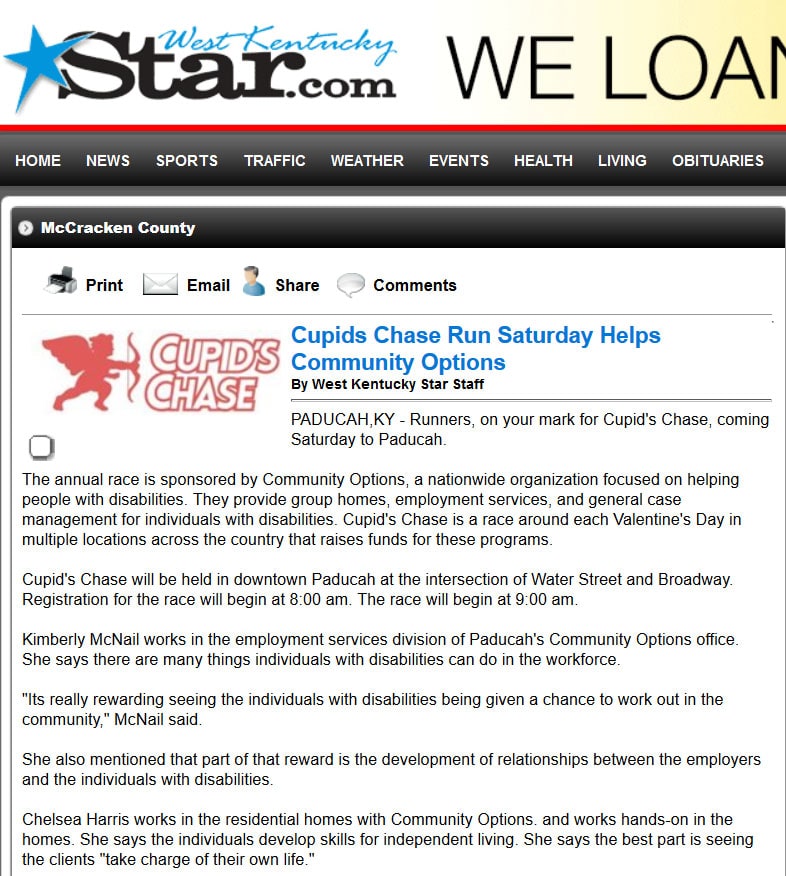 The annual race is sponsored by Community Options, a nationwide organization focused on helping people with disabilities. They provide group homes, employment services, and general case management for individuals with disabilities. Cupid's Chase is a race around each Valentine's Day in multiple locations across the country that raises funds for these programs.
Cupid's Chase will be held in downtown Paducah at the intersection of Water Street and Broadway. Registration for the race will begin at 8:00 am. The race will begin at 9:00 am.
Kimberly McNail works in the employment services division of Paducah's Community Options office. She says there are many things individuals with disabilities can do in the workforce.
"Its really rewarding seeing the individuals with disabilities being given a chance to work out in the community," McNail said.
She also mentioned that part of that reward is the development of relationships between the employers and the individuals with disabilities.
Chelsea Harris works in the residential homes with Community Options. and works hands-on in the homes. She says the individuals develop skills for independent living. She says the best part is seeing the clients "take charge of their own life."
Registration for Saturday's race is $30 per person if you register before Friday. On race day, the cost is $40.
For more information or to sign up go to www.cupidschase.org