Fifteenth annual Cupid's Chase 5K raises money for local residents with disabilities
February 11, 2023 | wbng.com online article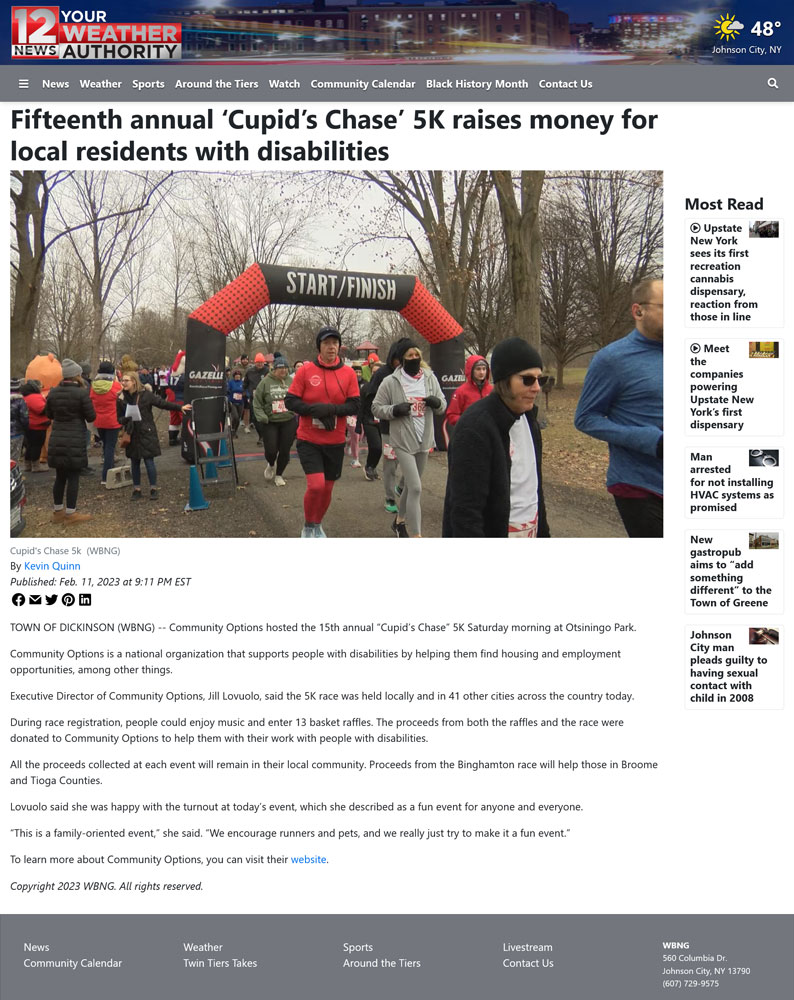 Cupid's Chase Binghamton
Saturday February 11th 2023 • 10:00 am
Otsiningo Park | 1 Otsiningo Park, Binghamton, NY 13905
TOWN OF DICKINSON (WBNG) — Community Options hosted the 15th annual "Cupid's Chase" 5K Saturday morning at Otsiningo Park.
Community Options is a national organization that supports people with disabilities by helping them find housing and employment opportunities, among other things.
Executive Director of Community Options, Jill Lovuolo, said the 5K race was held locally and in 41 other cities across the country today.
During race registration, people could enjoy music and enter 13 basket raffles. The proceeds from both the raffles and the race were donated to Community Options to help them with their work with people with disabilities.
All the proceeds collected at each event will remain in their local community. Proceeds from the Binghamton race will help those in Broome and Tioga Counties.
Lovuolo said she was happy with the turnout at today's event, which she described as a fun event for anyone and everyone.
"This is a family-oriented event," she said. "We encourage runners and pets, and we really just try to make it a fun event."
To learn more about Community Options, you can visit their website. comop.org