In Less Than Three Years, Wayne Flourishes in New Community
In Less Than Three Years, Wayne Flourishes in New Community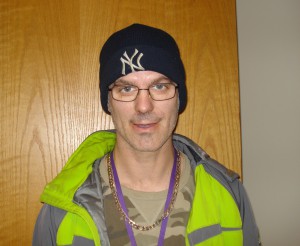 Wayne moved into a Community Option's Individualized Residential Alternative in Syracuse, New York on October 1, 2013. He had been residing in a New York State institution in an intensive treatment unit located in Tupper Lake, New York. In the beginning he was afraid of moving from the institution as this had been his home for 14 years.
Since coming to Community Options, Wayne has truly flourished in his home and community. He has become competitively employed, working 16 hours a week. He has developed many new friends, including a girlfriend who is very supportive of him. When asked what he likes about his home and life, he said, "I like meeting new people and especially making choices for myself to better myself". Additionally, he reported that he has learned from the staff at Community Options that you don't have to be down on yourself because of bad choices you made in the past.
We are all so proud of the steps that Wayne has taken to improve his life. When asked what motivates him he said "My freedom!".
Syracuse, New York