Meaningful Employment + Hard Work = Big Impact
I love going to work each shift, and I like my co-workers and manager a lot. They give employees free soda fountain/iced teas refills during their shifts, which is kind.
Jake, Client, Community Options Inc.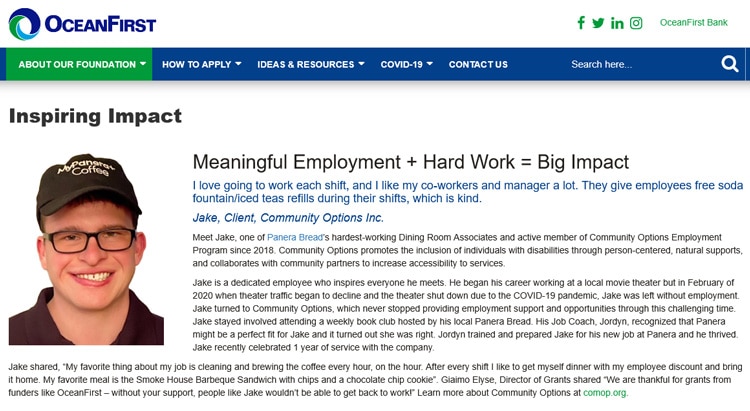 Meet Jake, one of Panera Bread's hardest-working Dining Room Associates and active member of Community Options Employment Program since 2018. Community Options promotes the inclusion of individuals with disabilities through person-centered, natural supports, and collaborates with community partners to increase accessibility to services.
Jake is a dedicated employee who inspires everyone he meets. He began his career working at a local movie theater but in February of 2020 when theater traffic began to decline and the theater shut down due to the COVID-19 pandemic, Jake was left without employment. Jake turned to Community Options, which never stopped providing employment support and opportunities through this challenging time. Jake stayed involved attending a weekly book club hosted by his local Panera Bread. His Job Coach, Jordyn, recognized that Panera might be a perfect fit for Jake and it turned out she was right. Jordyn trained and prepared Jake for his new job at Panera and he thrived. Jake recently celebrated 1 year of service with the company.
Jake shared, "My favorite thing about my job is cleaning and brewing the coffee every hour, on the hour. After every shift I like to get myself dinner with my employee discount and bring it home. My favorite meal is the Smoke House Barbeque Sandwich with chips and a chocolate chip cookie". Giaimo Elyse, Director of Grants shared "We are thankful for grants from funders like OceanFirst – without your support, people like Jake wouldn't be able to get back to work!"