Murphy administration needs to stop warehousing people with disabilities
January 04, 2021 | nj.com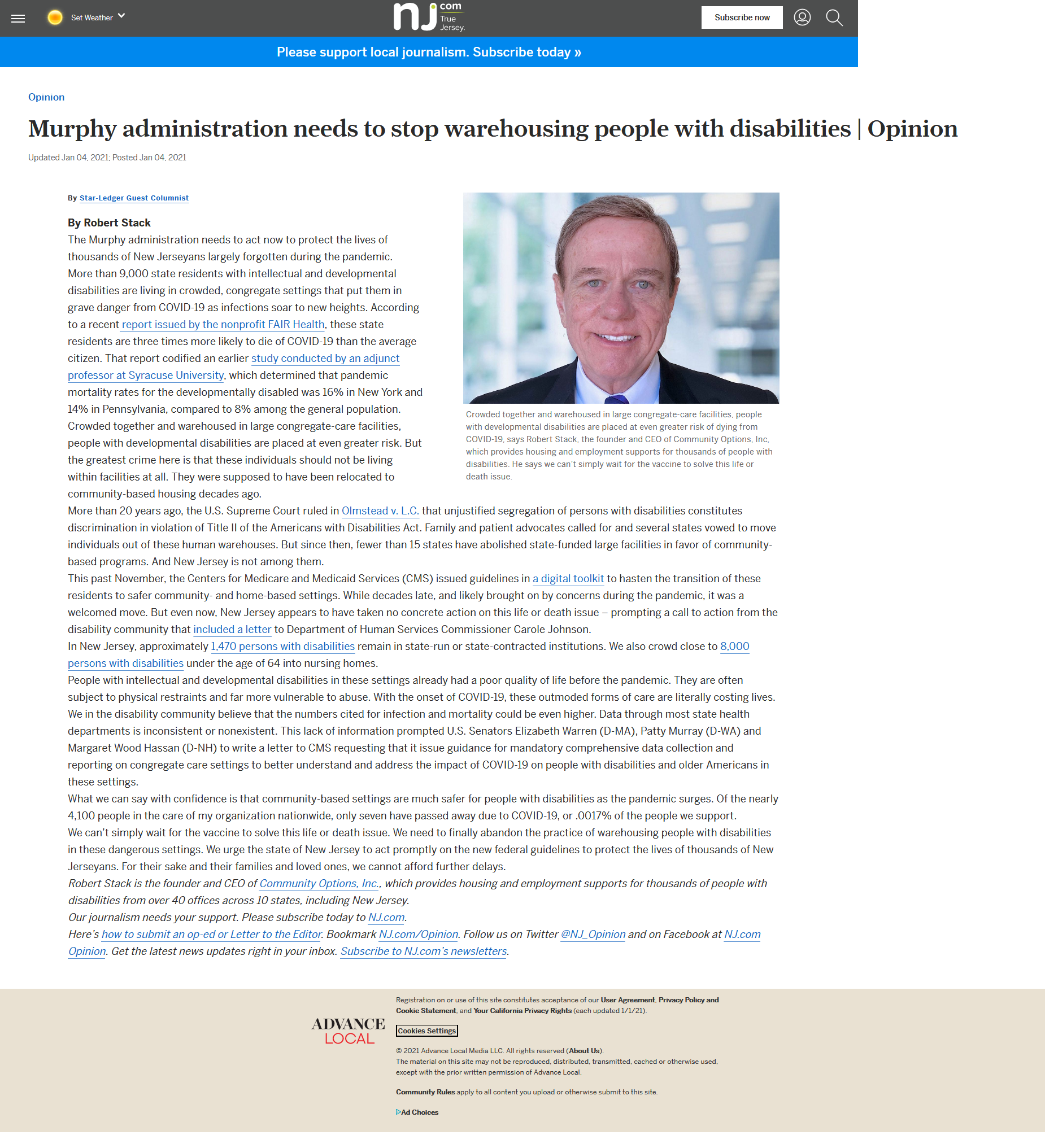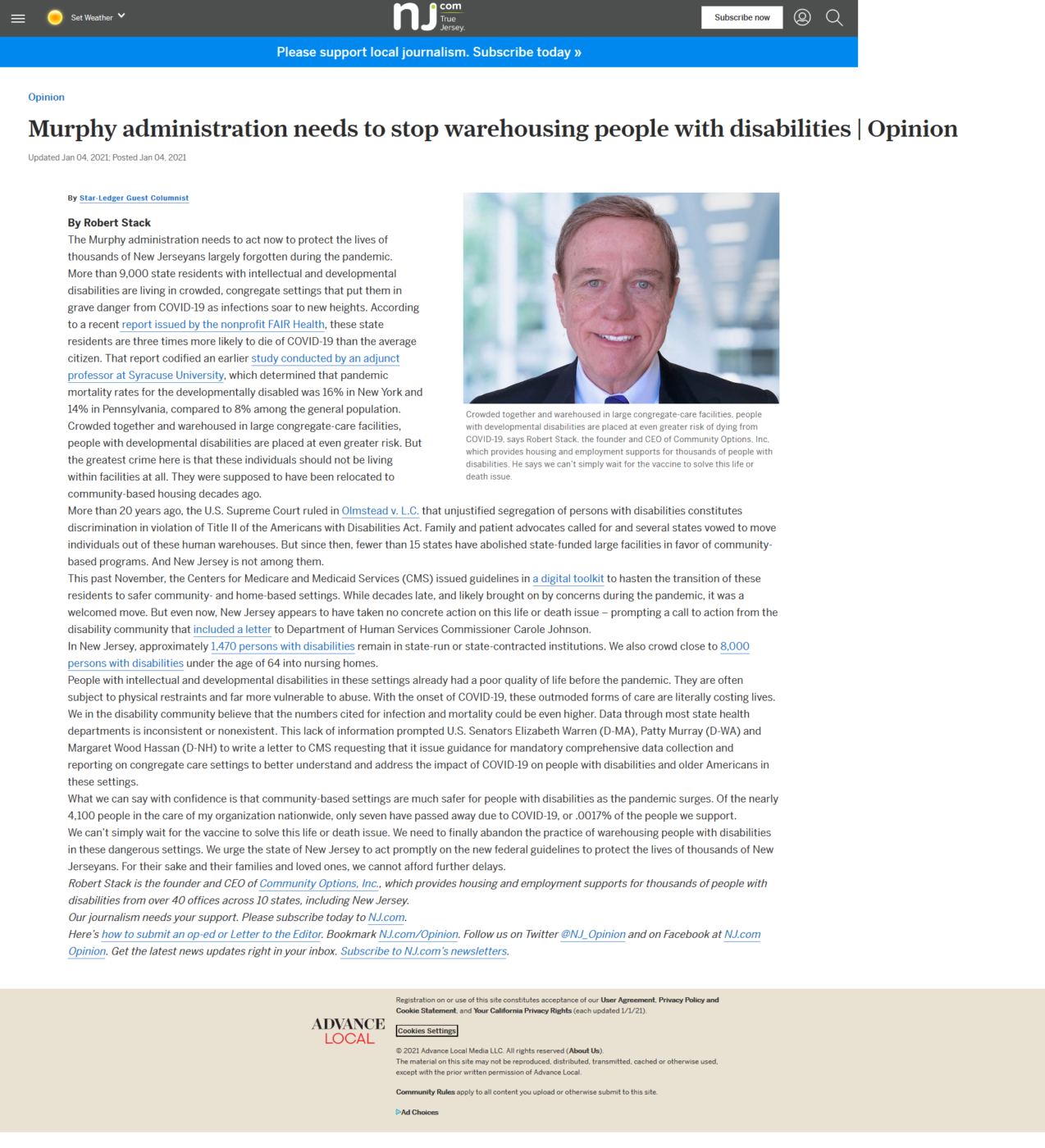 The Murphy administration needs to act now to protect the lives of thousands of New Jerseyans largely forgotten during the pandemic.
More than 9,000 state residents with intellectual and developmental disabilities are living in crowded, congregate settings that put them in grave danger from COVID-19 as infections soar to new heights. According to a recent report issued by the nonprofit FAIR Health, these state residents are three times more likely to die of COVID-19 than the average citizen. That report codified an earlier study conducted by an adjunct professor at Syracuse University, which determined that pandemic mortality rates for the developmentally disabled was 16% in New York and 14% in Pennsylvania, compared to 8% among the general population.
Crowded together and warehoused in large congregate-care facilities, people with developmental disabilities are placed at even greater risk. But the greatest crime here is that these individuals should not be living within facilities at all. They were supposed to have been relocated to community-based housing decades ago.
More than 20 years ago, the U.S. Supreme Court ruled in Olmstead v. L.C. that unjustified segregation of persons with disabilities constitutes discrimination in violation of Title II of the Americans with Disabilities Act. Family and patient advocates called for and several states vowed to move individuals out of these human warehouses. But since then, fewer than 15 states have abolished state-funded large facilities in favor of community-based programs. And New Jersey is not among them.
This past November, the Centers for Medicare and Medicaid Services (CMS) issued guidelines in a digital toolkit to hasten the transition of these residents to safer community- and home-based settings. While decades late, and likely brought on by concerns during the pandemic, it was a welcomed move. But even now, New Jersey appears to have taken no concrete action on this life or death issue – prompting a call to action from the disability community that included a letter to Department of Human Services Commissioner Carole Johnson.
In New Jersey, approximately 1,470 persons with disabilities remain in state-run or state-contracted institutions. We also crowd close to 8,000 persons with disabilities under the age of 64 into nursing homes.
People with intellectual and developmental disabilities in these settings already had a poor quality of life before the pandemic. They are often subject to physical restraints and far more vulnerable to abuse. With the onset of COVID-19, these outmoded forms of care are literally costing lives.
We in the disability community believe that the numbers cited for infection and mortality could be even higher. Data through most state health departments is inconsistent or nonexistent. This lack of information prompted U.S. Senators Elizabeth Warren (D-MA), Patty Murray (D-WA) and Margaret Wood Hassan (D-NH) to write a letter to CMS requesting that it issue guidance for mandatory comprehensive data collection and reporting on congregate care settings to better understand and address the impact of COVID-19 on people with disabilities and older Americans in these settings.
What we can say with confidence is that community-based settings are much safer for people with disabilities as the pandemic surges. Of the nearly 4,100 people in the care of my organization nationwide, only seven have passed away due to COVID-19, or .0017% of the people we support.
We can't simply wait for the vaccine to solve this life or death issue. We need to finally abandon the practice of warehousing people with disabilities in these dangerous settings. We urge the state of New Jersey to act promptly on the new federal guidelines to protect the lives of thousands of New Jerseyans. For their sake and their families and loved ones, we cannot afford further delays.