Report that President Biden will End Wage Discrimination for People with Intellectual and Cognitive Disabilities: Statement by Robert Stack, CEO of Community Options
January 19, 2021 | insidernj.com
Report that President Biden will End Wage Discrimination for People with Intellectual and Cognitive Disabilities: Statement by Robert Stack, CEO of Community Options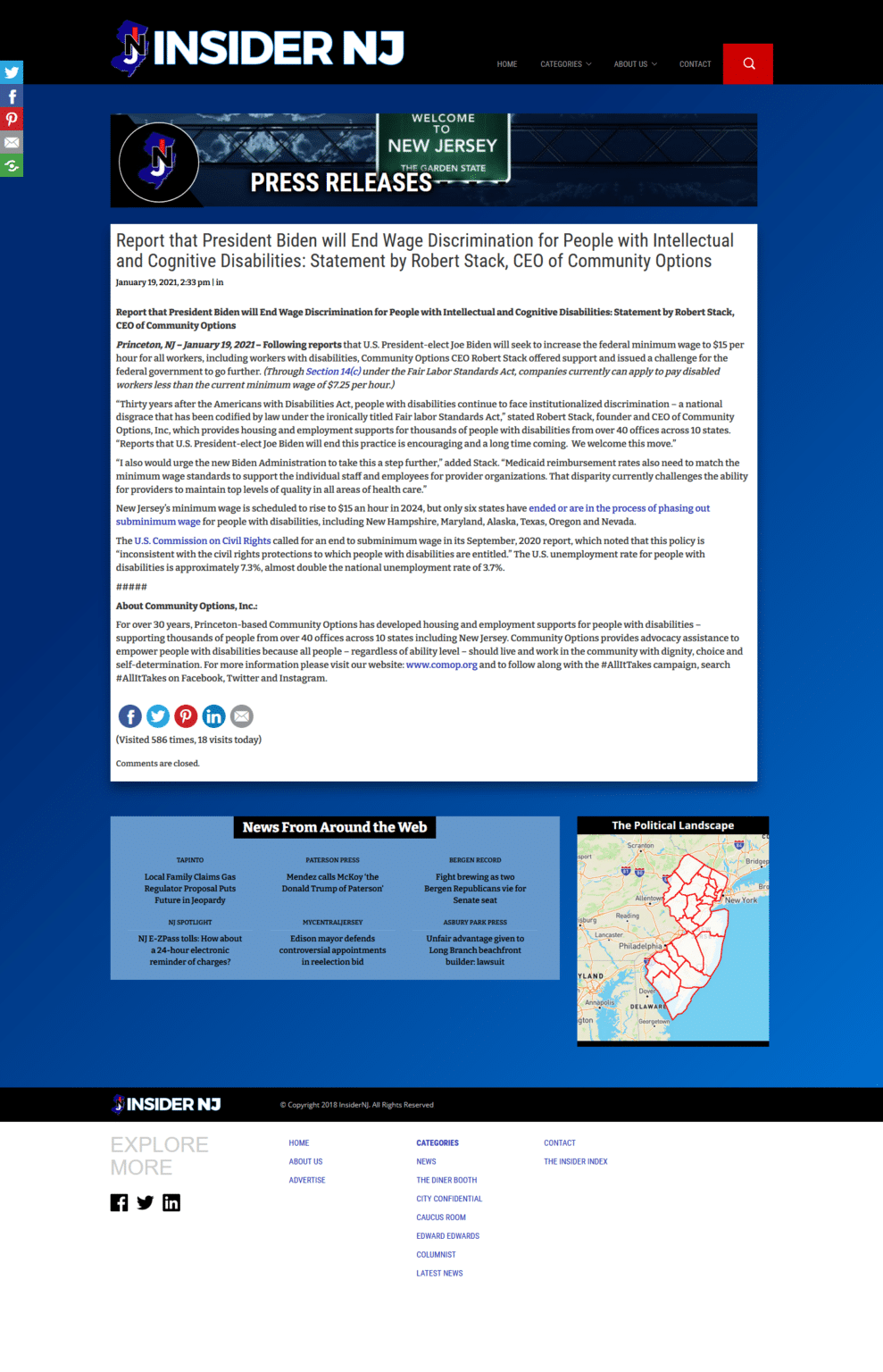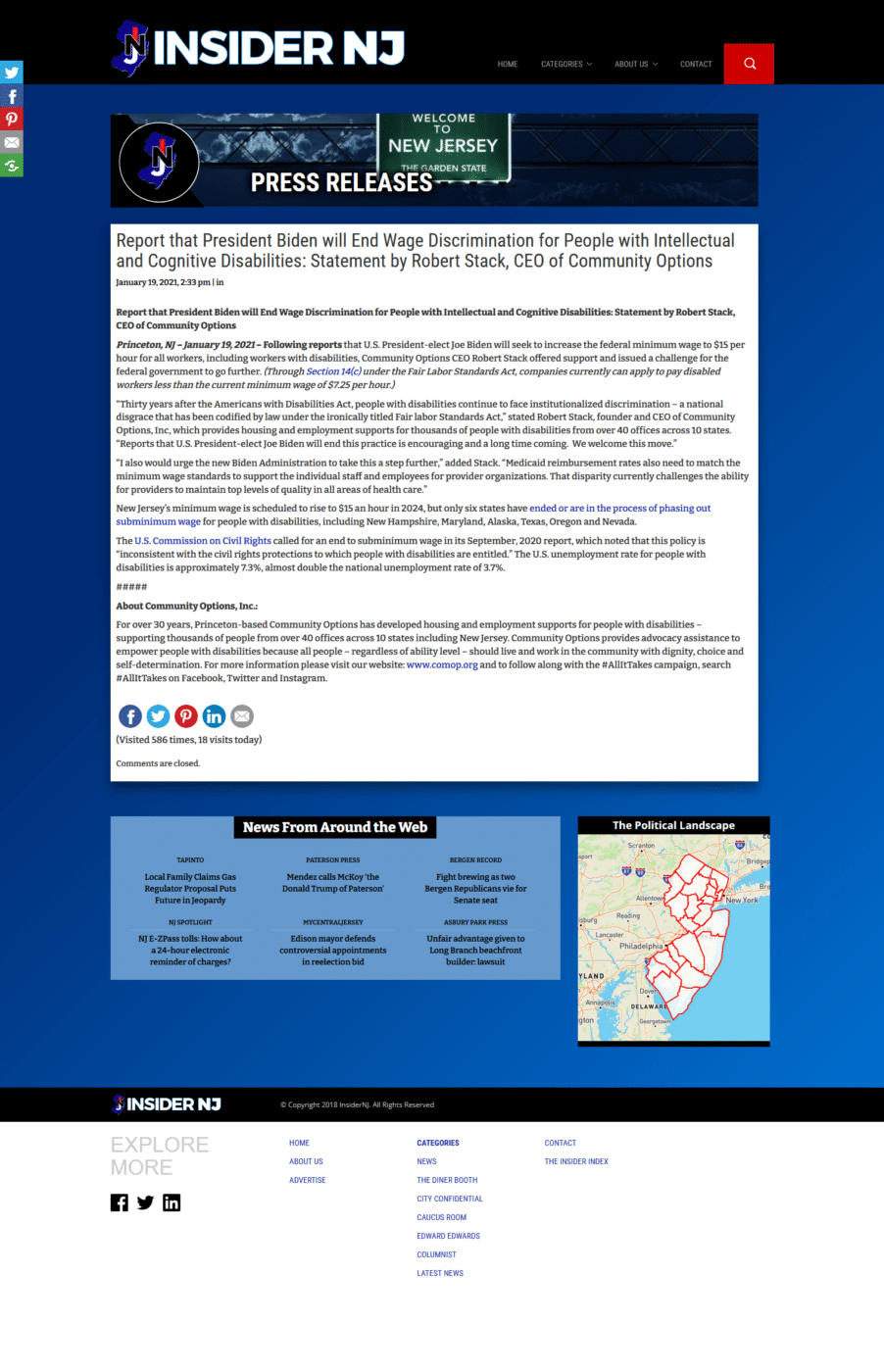 Princeton, NJ – January 19, 2021 – Following reports that U.S. President-elect Joe Biden will seek to increase the federal minimum wage to $15 per hour for all workers, including workers with disabilities, Community Options CEO Robert Stack offered support and issued a challenge for the federal government to go further. (Through Section 14(c) under the Fair Labor Standards Act, companies currently can apply to pay disabled workers less than the current minimum wage of $7.25 per hour.)
"Thirty years after the Americans with Disabilities Act, people with disabilities continue to face institutionalized discrimination – a national disgrace that has been codified by law under the ironically titled Fair labor Standards Act," stated Robert Stack, founder and CEO of Community Options, Inc, which provides housing and employment supports for thousands of people with disabilities from over 40 offices across 10 states. "Reports that U.S. President-elect Joe Biden will end this practice is encouraging and a long time coming. We welcome this move."
"I also would urge the new Biden Administration to take this a step further," added Stack. "Medicaid reimbursement rates also need to match the minimum wage standards to support the individual staff and employees for provider organizations. That disparity currently challenges the ability for providers to maintain top levels of quality in all areas of health care."
New Jersey's minimum wage is scheduled to rise to $15 an hour in 2024, but only six states have ended or are in the process of phasing out subminimum wage for people with disabilities, including New Hampshire, Maryland, Alaska, Texas, Oregon and Nevada.
The U.S. Commission on Civil Rights called for an end to subminimum wage in its September, 2020 report, which noted that this policy is "inconsistent with the civil rights protections to which people with disabilities are entitled." The U.S. unemployment rate for people with disabilities is approximately 7.3%, almost double the national unemployment rate of 3.7%.
#####
About Community Options, Inc.:
For over 30 years, Princeton-based Community Options has developed housing and employment supports for people with disabilities – supporting thousands of people from over 40 offices across 10 states including New Jersey. Community Options provides advocacy assistance to empower people with disabilities because all people – regardless of ability level – should live and work in the community with dignity, choice and self-determination. For more information please visit our website: www.comop.org and to follow along with the #AllItTakes campaign, search #AllItTakes on Facebook, Twitter and Instagram.