Employment is one of the core services provided by Community Options.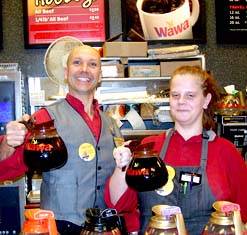 We believe that everyone who wants to work should be given the opportunity to do so, no matter the level of their disabilities.
To that end, we have developed an array of income producing projects; from entrepreneurial businesses that employ people with and without disabilities, to supported employment with one-to-one job coaching, to individual micro-enterprises. We will do whatever needs to be done to help people with disabilities experience the pride and self-esteem that comes with getting a paycheck or owning a business.
Our entrepreneurial businesses, such as the Daily Plan It, Vaseful, and Presents of Mind provides individuals with disabilities an opportunity to work in a real business setting alongside trained professionals as opposed to a simulated or workshop based setting.  Our entrepreneurial businesses embody the true meaning of an integrated employment program as defined by the Department of Labor.
We assist people with disabilities in developing a customized work plan and preparing them for individual placement in competitive employment.  Employment specialists and job coaches guide participants through a training program based on their individual work plan, helping them to acquire all of the necessary skills for a job of their choice in a community-based employment setting.  Individuals will learn a variety of employment skills such as marketing, maintenance, filing, data entry, money management, scheduling, administrative duties and computer skills.  Individuals are also trained in social skills including customer service, interacting with coworkers, and professionalism in the workplace.  At the same time, they will have an opportunity to explore their career interests using the well-respected Marc Gold Discovery method.
Success is defined differently for each individual.  Most individuals seek a meaningful work environment where they are treated with respect and can build professional and personal relationships with peers. COI works on a case-by-case basis with each individual to tailor the program to meet their personal needs.  All individuals in our employment programs are invested in their future  and we evaluate each person individually.
Our own Option Quest program provides community activities for people who are not yet interested in competitive employment.  Its goal is to demonstrate the kind of jobs that exist in communities, develop social skills and match people with volunteer or part-time work.  Option Quest is a portal, an entry to the world of employment.
Their experience will empower them to pursue competitive employment and integrate into the community, thus proving the value and potential of persons with disabilities to contribute to society and lead self-determined lives.