Community Options, Inc. Invited to Appear on Telemundo Talk Show
9 A.M. EST, FEBRUARY 2, 2009 PRESS RELEASE
5 Segments to Showcase Housing and Employment Services offered by Las Comadres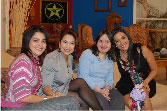 Princeton, New Jersey, February 1, 2009: On Saturday, January 31st, a variety of staff representative of Community Options were busy taping a five day segment to showcase our housing and employment services to the developmentally disabled at a Telemundo Studio in North Arlington, New Jersey.
Las Comadres Con Gloria B is a daily talk show that appears on the Telemundo television network. Telemundo is owned by NBC Universal and is the second largest Spanish Language channel in the United States with 1,035,000 viewers per week on over 142 markets including cable, satellite TV and over the air. Representatives from Community Options were interviewed for 5 segments including 2 residential segments, 1 Employment Segment, 1 Traumatic Brain Injury Segment and 1 Segment on our 20th Anniversary, Cupid's Chase 5K Run, Upcoming 20th Anniversary Gala and 4th Annual Conference.
Howard, a person with a developmental disability supported by Community Options in a group home in Northern New Jersey said, "This was the time of my life, everyone was so nice." Howard was accompanied by his long-term Group Home Manager, Raysa Vidal. Raysa has been employed by the organization for over 10 years and has dedicated her professional career to improving the quality of life for people with developmental disabilities.
"To have the opportunity to showcase our innovative services was a wonderful opportunity for the organization to outreach and connect with a different audience," says, Jessica Guberman, Executive Director of Community Options.
The Community Options segments will start airing on Monday, February 9 through February 13 that 5am on your local Telemundo network. Please defer to your local listing guide for specific channel information.To learn more about us and to join us on our journey of supporting people with developmental disabilities, please visit us on the web at www.comop.org.
COMMUNITY OPTIONS, INC. SUPPORTING PEOPLE WITH DEVELOPMENTAL DISABILITIES SINCE 1989