Valentine's weekend – 16 things to do this week in CNY – Cupid's Chase 5K
Valentine's weekend, Enchanted Princess Ball, Super Couch Potato 5K: 16 things to do this week in CNY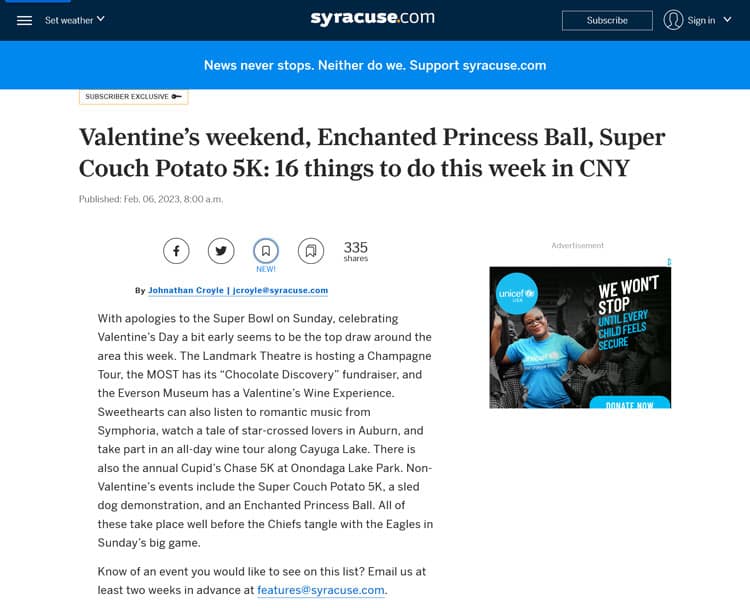 February 06, 2023 | syracuse.com online article
With apologies to the Super Bowl on Sunday, celebrating Valentine's Day a bit early seems to be the top draw around the area this week. The Landmark Theatre is hosting a Champagne Tour, the MOST has its "Chocolate Discovery" fundraiser, and the Everson Museum has a Valentine's Wine Experience. Sweethearts can also listen to romantic music from Symphoria, watch a tale of star-crossed lovers in Auburn, and take part in an all-day wine tour along Cayuga Lake. There is also the annual Cupid's Chase 5K at Onondaga Lake Park. Non-Valentine's events include the Super Couch Potato 5K, a sled dog demonstration, and an Enchanted Princess Ball. All of these take place well before the Chiefs tangle with the Eagles in Sunday's big game.
ABOUT CUPID'S CHASE 5K
Every February, this national race series celebrates Community Options' founding in 1989. Volunteers raise funds and awareness to support housing and employment for people with disabilities. We welcome all runners, joggers, walkers, and sponsors to join us at Onondaga Lake Park in Syracuse on February 11, 2023.